Retro Rocket Thursday – the Space Tub Rocket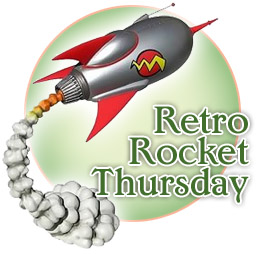 Once again, it's Retro Rocket Thursday – that holiday of long standing that we get every week, so long as I remember what day it is.
Today's retro rocket is the Space Tub Rocket
by Jeff Brewer. This handsome, bulging cartoon rocket is cast in resin on a weighted base that will keep it flying in almost any situation. Almost, I say, because mine turned out to be a very poor perch for a bird, when it found its way into my house. Don't try this at home.
But aside from air raids, it's a great, bulgy, more or less streamlined cartoon rocket that stands proudly on top of its plume of exhaust. Nice one!