Retro Rocket Thursday – the Bolts Blast Rocket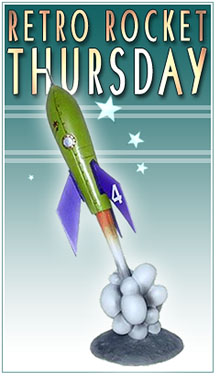 Once again we find ourselves on the fifth day of the week, and we celebrate that with one of Jeff Brewer's outrageous rocket statues.
A cast resin icon, the Bolts Blast Rocket
towers over anything shorter than fourteen inches as it balances on its weighted base atop a plume of cartoon smoke. Mine's on top of a bookcase – which may sort of assist in the towering department.
Its name ("Bolts Blast") sort of signifies that it's the smoke-enabled version of Brewer's classic "Bolts Rocket
". That one just towers on its fins.