"Subway Style", by Andrew Garn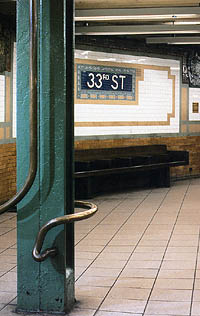 I ran across this book (Subway Style: 100 Years of Architecture & Design in the New York City Subway
) while I was looking for reference material for a long term project of mine. I'm especially interested in subway stations up to about 1940, but it's difficult not to get sidetracked by the wealth of images and information in Garn's book.

For example, who knew how interesting the evolution of turnstiles would be? And since these stations have been in constant use for up to a century or more, their layout and design has repeatedly been adapted to new systems for ticket-taking, seating, vending, and just about anything else that happens in a subway station… by design, anyhow. This may make the mainly modern photographs in the book problematic for me, but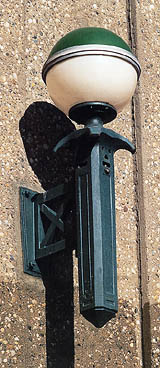 if anything it makes them even more interesting to explore. Still there are quite a lot of period photos and some great graphics used to advertise the subway and its destinations over the years.
I could wish for more examples of mosaic and ceramic work, I guess – we do face the problem today that we can't take our own reference photographs in the stations – but that's due to the material I'm looking for. It's certainly not a failure of the book itself.
At right is a detail I especially like – a modern addition to the Roosevelt Island Station, it uses forms that date back to a 1930 design in order to blend in with the existing fixtures of the IND line.
Here it is. Go forth and browse.