"Stilt Walkers" by Alexis van der Haeghe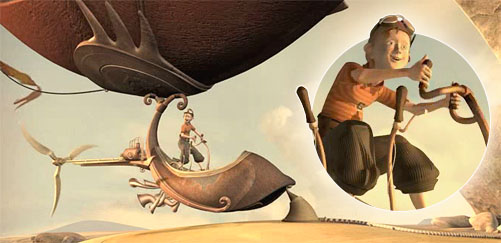 "Stilt Walkers" is a beautiful, four minute student film by Alexis van der Haeghe of Belgium. It reminds me of those old days when I'd zoom across California in my art nouveau airship, investigating the clouds and having adventures. Except that I didn't do that, of course.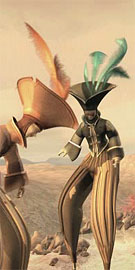 But watching this boy have his own adventures sure makes me wish I had, and I almost feel like I did.
Clad in an aviator's helmet and plus-fours, the boy is clearly having the time of his life until he encounters a pair of comedia-del-arte style giants on towering stilts. Complications ensue, all in fine style. Highly recommended.
The artist has since done some work on a movie trailer and a CD, but seems to be working away, at the moment, on a children's book. A personal project – glad to see that. I'm always interested in what we can do when we're not bound by what someone else thinks they can profit from.