3 volumes of science fiction & horror stories from 1940 with covers by the Pulp-O-Mizer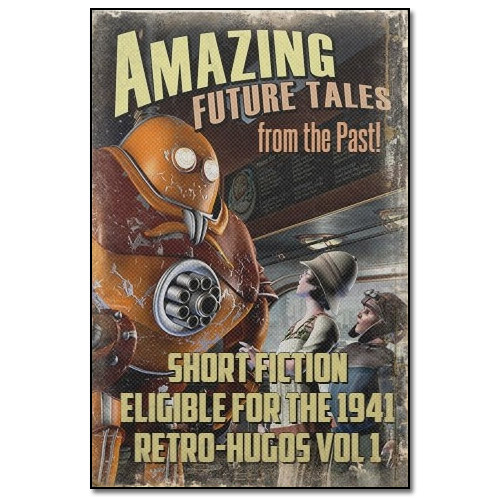 I ran across a post at File770.com featuring the third volume of a collection of stories eligible for the 1941 Retro Hugo Awards at next year's Worldcon. The collection is an ongoing project by File770 user von Dimpleheimer.
Since the third volume is a big batch of stories by Henry Kuttner and Ray Cummings I followed the link and grabbed a copy, only to discover that von Dimpleheimer had made the eBook cover with my very own Pulp-O-Mizer. This put a smile all over my face. Like, actually, all over my face.
So I went back and downloaded the first two volumes and, sure enough, they had also been Pulp-O-Mized. This may be my very favorite use of the Pulp-O-Mizer to date.
But I started out by looking for the stories, and of course I found them, too. Now, I'm a big believer in the Henry Kuttner/C.L. Moore cooperative, but I don't think I've read Cummings before. I'm having a great time correcting that oversight.
There's a lot of variety in the stories. This is partly due to the different magazines they were written for – Cummings' WeirdTalesian stories for the horror magazines are entirely different from his SF and humorous pieces. And you also have to factor in the astonishing rate at which these pulp writers ground out their work. Every story in this volume was written in the year 1940: there are twenty-three by Kuttner, and thirty by Cummings. That's not their whole output; that's just what's included here. These writers were just pounding those words out.
There are places where this shows, of course, but Cummings has already taken a place on my virtual humor shelf next to Kuttner and Fredric Brown. That's largely on the strength of one story, World Upside Down, but I'm sure there will be more. (The Vanishing Men, while it's not about time travel, underscores one problem with time travel that's always overlooked.)
Want to find out for yourself? You can get the download links for Volume One here; for Volume Two, here; and for Volume Three, here.