Morno's Dice of Fate Calendar: Art from the Early Days of Fantasy Role-Playing Games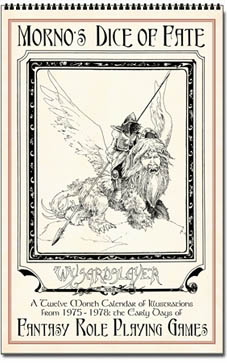 So if it's 1975, and you hand a teenager a woodgrain boxed edition of Dungeons & Dragons along with a stack of paper and some pens, well, you just sit back and see what happens. Here's what happened to me. I turned into Morno.
From right around 1975 to sometime in 1978 I drew illustrations for some of the earliest D&D supplements, modules and fanzines, and even had one cover and two illustrated stories in TSR's own The Dragon magazine. I also did some of the covers and illustrations for Dave Hargrave's Arduin rules sets and for a great many products, some peculiar in retrospect, for Wee Warriors; that included the first commercial D&D character sheets and the very first module for the game (Palace of the Vampire Queen). There's a huge, long and complex history of those products that I frankly don't remember very well after all this time. But in this age of eBay and the Web it's not too hard to ferret that history out.
People actually collect these things now, and you have no idea how old and crotchety that makes me feel.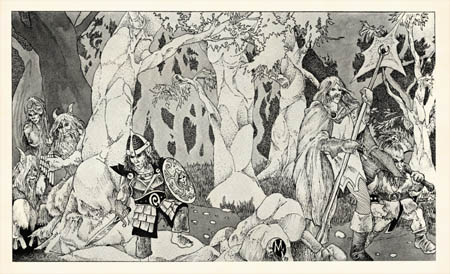 If you want to understand how I feel about all of that… well, imagine that something you did when you were seventeen was remembered, resold, and talked about decades later. Yeah, pick a thing you did when you were seventeen. I dare you. Chances are you'd rather the world just forgot about the things you did at that age, and I wouldn't blame you. So I can't forget that I was just a kid, doing the kinds of things that kids do, and that even five years later I had a much more respectable set of tools and experiences and was making art that was a lot more accomplished; and for many years I've been glad that I did all of this work under an alias. So that, you know, it couldn't find me.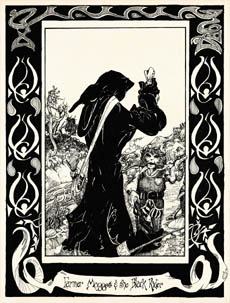 Like I said, though: age of eBay, age of Web. People tracked me down.
So I've tried to make some kind of peace with the fact that I was once a kid with a woodgrain D&D set and some pens and paper. It hasn't killed me.
Part of that inner peace has led me to put together a little retrospective of that very, very, very early work in the form of this calendar, featuring acts of drawing that I committed between 1975 and 1978 when I was using the "Morno" signature. A couple of these will be new to everyone but me. Because even if I tried to get away from the kid I couldn't entirely cut him – or his old drawings – loose. It was something about his eyes.