Raygun Gothic Rocketship counts down to its launch


As I write, the countdown timer on its web site tells me that less than 13 days remain till the arrival of the Raygun Gothic Rocketship at its destination, which is either Burning Man or someplace a bit more interstellar.
If you've missed it, this is an impressive feat of construction – at forty feet tall! – by the same group of demented designers that brought us the Steampunk Treehouse.
Much as I like treehouses, this one's probably a little nearer the mark for me.
They describe it in this way:
The Raygun Gothic Rocketship is intended to creatively explore our ideas about evolution and technology as they relate to our notions about progress and The Future. This project exists at the blurry edge where science and fiction blend and become both our reality, and the stories we tell ourselves about that reality.
For those of us who haven't been to art school, my Disingenuizing Deconstructor translates that as:
We though this would be so cool to make! But we're afraid that you won't respect us unless we come up with some sort of ridiculous prevarication that makes us sound all… sort of intellectual, you know?
But disregard the pretensions. It is a richer world that has scenes in it like the one below.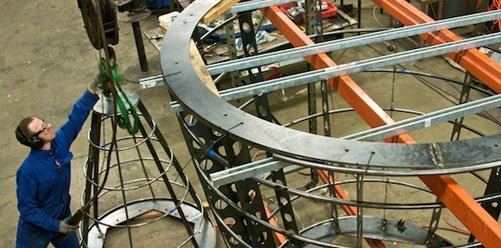 A little Lewis Wickes Hine, a little Buck Rogers. Just the way I like it.
And with this post I've caught up a bit with the cool things that have been piling up while I worked away almost tirelessly in the Secret Laboratory: in the past three days I've written posts about robots, ray guns, and rocket ships. It's the trifecta of retro futurism!