Buck Rogers Comics to be Reborn at Dynamite Entertainment


Comic Book Resources reports what could be wonderful news, or terrible news, depending on how it works out. The John F. Dille Trust has reached an agreement with Dynamite Entertainment to revive the Buck Rogers comics as a comic book series with many merchandising tie-ins. No writers or artists are yet attached to the project except that covers will be provided by the very able hands of Alex Ross and John Cassaday.
When I looked into Buck about ten years ago I thought that Disney had sewn up most of the rights; I have to assume that what I was looking at were film and television rights, though, or that those agreements have since expired.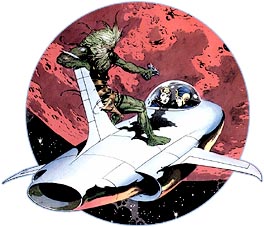 Buck Rogers was a first in many ways. His adventures began as a work of short fiction and then transmogrified into a successful comic strip that ran for almost four decades. Written by Phil Nowlan and originally drawn by Dick Calkins, the series was ghosted (at least on the art side) many times over its reign. On the left we see one of Frank Frazetta's contributions from Famous Funnies in the 1950's.
Buck paved the way for science fiction heroes in both comics and radio . He didn't have the same success in movie serials as did the me-too character Flash Gordon, but for my money the Buck Serials
were a good deal more fun. But backpedal to the early days of the comic strip for a moment, because one of the most astonishing things about Buck's popularity in those days of the late twenties and the early thirties was that he invented merchandising.
The comic strip was so popular that Daisy introduced a Buck Rogers ray gun toy. Lines actually formed around the block to get these when they were released and those toys are no less desirable – albeit far more costly – today. Puzzles, helmets, and every sort of toy you could imagine followed. Buck Rogers was the first blockbuster entertainment franchise. No one could believe just how successful these toys were and naturally enough, everyone wanted to reproduce that success. Hollywood's output today shows us that they're still trying, and sometimes succeeding – at least in that.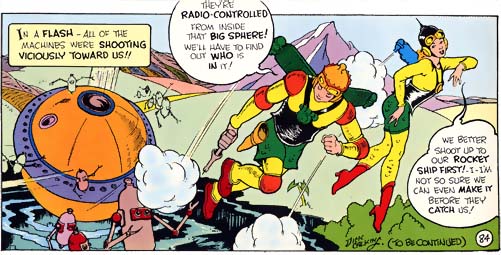 Buck's appeal may have been that he began as a sort of everyman, trapped in a collapsing mine in 1929 and preserved by its uncanny gases for five hundred years. On awakening he discovered an unfamilar world, partly gone back to huge forests, partly occupied by futuristic cities and – this being the 1920's – dominated by an oppressive, though ultimately sort of bumbling, Asian yellow peril.
The world of the 25th century offered all sorts of wish fulfillment for its rapt 1930's audience. Not least of the inventions was the "jumping belt", really a big disc of an element called inertron, which was lighter than air. A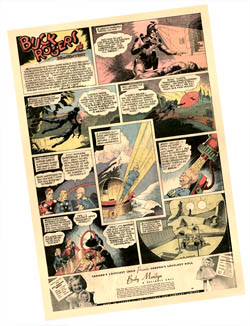 jumping belt was calculated to neutralize almost all of its wearer's weight so that people were able to bound across the landscape in dreamlike, lunar leaps.
Like any franchise with such a long lifespan the Buck Rogers strip altered over time. Even the origin story was revised. During the second World War, especially, things changed to make Buck's adventures more topical and (once again) pretty appalling, with apelike Japanese characters and extremes of jingoistic Americanism that seem a bit odd when they show up in the futuristic world of the 25th century. But like any period piece we do have to try to view this through the lens of its own time.
Buck eventually fizzled in the comics right about at the time of the Moon landing – when reality was overtaking him – and the franchise gathered dust for about ten years until, in the wake of Star Wars and the Flash Gordon movie, it was revived in a new form in a movie and television series. I try to pretend that those didn't happen, but I understand that I'm really just in denial.
The late 1970s version of Buck was a copycat – like I said, Star Wars and even Star Trek had created a new base from which it was now derived – and the irony there, to my mind, is that Buck had been remade in the image of things that were themselves derivative of the original Buck Rogers. Anyway, that little robot just gave me the heebie-jeebies.
The Buck Rogers I love is the crazy, silly, naive Buck of the 1920's and the 1930's, a time in which we desperately needed a bright future and so we made one up to fit. It's not even science fiction in any kind of modern sense. It's pure fantasy of the most unrepentant kind. And it's the seminal influence on my own too-big-for-anyone project, Empire State Patrol.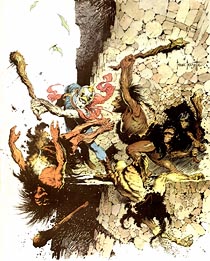 And this leads me to the reasons why part of me dreads what will happen in this new comic book version from Dynamite Entertainment. We've recently seen what the Sci Fi Channel, to whom science fiction includes professional wrestling and embarrassing paranormal "investigations", has made of Flash Gordon. It wasn't pretty.
And for anyone to take on this material is going to be a challenge. It's strongest when it's not self-aware, when it doesn't wink in asides to the audience, when it never descends to camp. But if it takes itself too seriously, it's tedious and unbelievable. The creators are going to have a tough job ahead of them.
I haven't yet read the revival of the Dan Dare comics, which are apparently now darker, set in the days that follow the old series, where things haven't worked out so well after all. That transition is perhaps more natural to us because Dare was a product of the 1950's, and so having things take a turn for the worse actually mirrors the way we look back on that particular time. Would that approach work for Buck? My instinct is that it wouldn't. But, you know, I'm wrong all the time.
There has to be a good, creative way to invigorate good ol' Buck. It's just a matter of finding it. And I so hope that the new team will be up to it, as challenging as it is, because I'd really love to see this work.