Lawrence Northey's Robot, Rocket, and Ray Gun Sculptures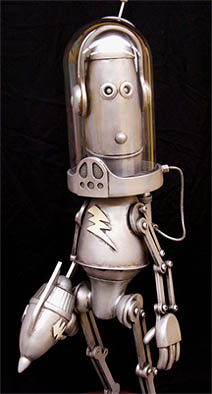 Lawrence Northey's sculptures of robots, rockets, and ray guns (oh my!) are what you'd have to call out of this world.
Like the artists who created the Faberge eggs he admires, Northey uses a variety of materials and techniques. Most of these pieces feature brass, stainless steel, and glass. Sometimes cast aluminum or cast resin parts are also used, typically hand painted to give a uniform finish with the other parts.
While most of these pieces are pure sculpture, in sizes around thirty inches in heght, there's also the amazing "Dave the Robot Lamp", which lights up in eerie warm colors – pretty dang extraterrestrial, in fact.
Northey does commission work as well as selling made-to-order series – like "Dave the Robot", at right, and the cast aluminum "Silver Edition Raygun".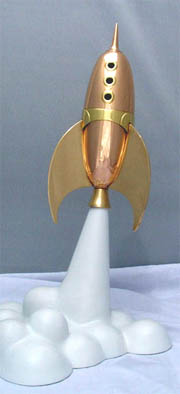 One of the fascinating things about these works is that although they're obviously inspired by retro-futuristic toys from the 30s through the 50s, they're made with exacting craftsmanship and detail that recalls early European art deco objects. Consequently you'll find that they're priced as artworks, not knicknacks. Judging by the samples on his site they're worth every penny.
Some of his commissioned work is animatronic – lighting up. moving, and making sounds, even music. And like your chronically project-obsessed correspondent, he's tying these characters and ideas together into a story which he calls "Wired City".