Thrilling Tales: more ladies of Retropolis and – soon – a new Celtic art site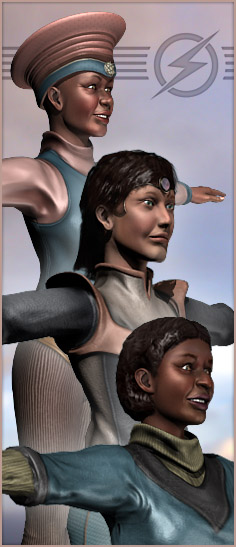 Here we have three more of my not quite generic ladies of Retropolis; I could go on and on, and I'd like to because this is the stage of character work that I really like. I'm trying not to think about what I'll go through when I skin them to their bones, since that's the part that I emphatically do not like.
Still, since their faces and hands are taken care of already the worst is probably behind me.
I guess I should believe now that I have all the generic costume parts I need even though I would always like to have more. I do still need to turn out a similar number of male characters. That Clockwork Book clock just keeps ticking.
In the meantime I'm just about a home page away from launching my new site, The Celtic Art Works. That one will do for my Celtic art merchandise what the Retropolis site has done for my retro future: it gathers together all my Celtic design products from Celtic Art & Retro-Futuristic Design, Saga Shirts, and Ars Celtica so that I have a single shopping site where all that wonderful stuff is presented together.
I had meant to finish The Celtic Art Works at about this time last year – but since I didn't start it until this summer I seem to have missed that goal. It really has been a pretty big job – but sometime this week, anyway, it ought to be done.
As a side effect of all this recent work, I may finally redo my Ladies World Domination Society T-shirt soon. It's been asking for an update for months now, and armed with all these Retropolitan ladies, well, I probably won't be able to hold out much longer.