Tentacular, Tentacular – an interactive story from the Cthulhu Mythos and Ars Technica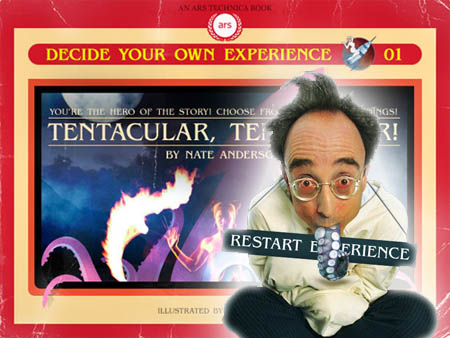 Tentacular, Tentacular is a multiple-choice interactive story from Ars Technica in which you (yes, you!) can play the part of a private investigator who is (or will be) hard boiled, hard bitten, hard fried, hard nosed, or hardly married to a booth babe, all depending on what you (yes, you!) choose to do when confronted by a plot of creeping madness in a Las Vegas trade show. With an extra side of Elder Gods and bacon!
Along the way, you (yes, you!) may encounter eldritch beings like, well, Steve Ballmer, Sergey Brin, Alec Baldwin, and more, as you try to solve the mystery of why thousands of geeky conventioneers, all smelling faintly of bacon, are being driven totally insane by their unscheduled encounter with Cthulhu himself. Itself. Thing. Self. Thingself. Whatever.