Thrilling Tales Begets the WORLDS GREATEST MEGALOMANIAC mug, in both Girly and Manly Editions


I've just committed the opposite of product placement. I can't swear to it that I'm the first, so I won't claim to have invented it.
While I was working on the Thrilling Tales script for The Lair of the Clockwork Book, I wrote in a coffee mug with "World's Greatest Megalomaniac" printed on it. And having written it, I found that it wanted to exist. So now it does: twice over, in fact.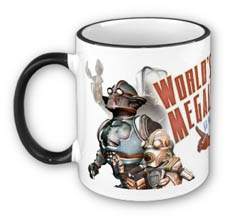 The Girly Edition Megalomaniac mug features a young lady with goggles and a ray gun that may not be approved for use by young ladies. I'm not sure: etiquette confuses me. I'm especially happy to have done this one because lately I've been getting requests for Mad Scientists of the female persuasion, especially girls. So I'm doing my bit here to encourage more of our young ladies to build giant robots and death rays. Somebody's got to do it.
There's also a Manly Edition Megalomaniac mug for the hidebound traditionalists among you. There's plenty of world domination to go around, folks: no need to get competitive.
Anyway, these are just the thing for cowing your subordinates at work or down in the bomb shelter. Drink up! Shirts are likely to follow.