Old and New Mister X Comics Coming from Dark Horse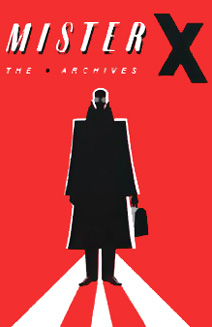 Dean Motter has
updated his website
with new information about his Mister X comic series, with old material to be re-released, and new stories to appear through the good graces of Dark Horse Comics.
Mister X was quite the phenomenon during the 1980's, with its Lost-like riddles within riddles and a dark, ominous setting in one of three cities in Motter's noir retrofuture. Maybe a just little nearer to my own heart would be his Electropolis and Terminal City
, but hey – it's all good.
You can start with a taste of Mister X: The Archives, which will collect the 384 pages of the character's initial run along with Motter's restored and revised finale to the series. Following that there will be Mister X: Condemned, a new four-issue miniseries.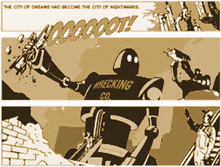 In his first life, Mister X attracted artists and guest talent that included the Hernandez Brothers, Seth, Paul Rivoche, Bill Sienciewicz, Dave McKean and Neil Gaiman – but on the art side, at least, my favorite Dean Motter always had art by… Dean Motter. No one else ever quite captured his Expressonistic dystopias the way he did himself.