The latest from my financial apocalypse: help me save my house at GoFundMe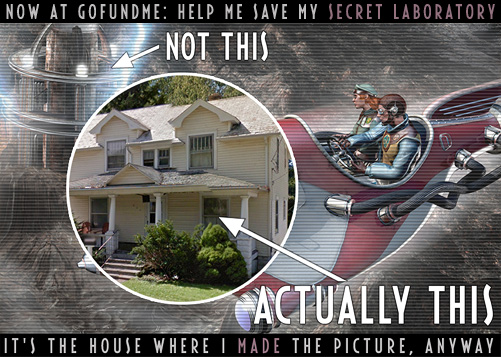 If you've been following along, you know that for the past ten years I've been trying to deal with the medical bills from my uninsured cancer treatments. Last year I finally crashed, though (so far) I have not burned.
So far.
When I wrote the post about my troubles I was waiting for some more bad news: my homeowners insurance company wanted to have a look at my house to decide whether they'd require me to make some repairs before they renewed my policy.
When that shoe finally dropped, it fell from a pretty great height. They won't renew my policy unless I replace the house and porch roofs before my renewal date in mid-April.
That turns out to be an expensive operation – in the neighborhood of $11,300. The 100-year-old slate roof has to be removed. The porch roof, which is in very poor condition, needs to be stripped, with its framing repaired, before it's roofed over.
If I lose the house insurance I'll be in violation of my mortgage agreement. As soon as that happens, my mortgage lender will foreclose.
My Patreon supporters have helped me reach the point where I'm not facing doom every month. But that's no help when it comes to an emergency on this scale.
So in a desperate act of desperate desperation I've started a project at GoFundMe. Unlike my Kickstarter and Patreon projects, I'm not proposing a deal here: I'm straight out asking for money to deal with something I can't deal with on my own. I don't like doing that. It's just that at this point I have no choice. This is the new me, the panhandler.
The clock is ticking. If I can get past this major hurdle I'm hopeful that my low mortgage payment will continue to keep me going until March of 2020, when I'll be able to draw on Social Security. But at the moment that month seems very far away.
So that's my thing. If you're inclined, and able, to help, I would sure appreciate it. I know it's a big chunk of money (believe me, I know) but it's just possible that when a lot of people each chip in a little money, those little bits can add up to a lot.