"Eaten By A Grue" music video, & my ramblings about computer gaming's wealthy wasteland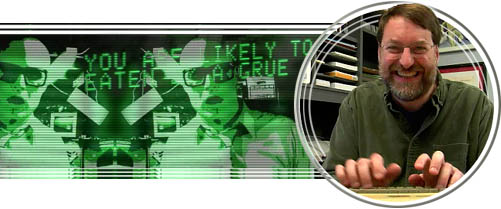 Here's a fun thing: a music video for MC Frontalot's 'It Is Pitch Dark' (you are likely to be eaten by a grue). It's an homage to the Infocom text adventure games of yore, and it even features a cameo by Infocom designer Steve Meretzky (above right). Meretzky has been idolized as a Game God by PC Gamer Magazine.
Steve Meretzky was the author of the text adventure Planetfall – which I think, after 24 years or so, is the best computer game I ever played.
I think that because I've never encountered another game that came so close to being a new narrative art form. The form is necessarily different from prose fiction or film because the medium is unique.
The game uses a form of storytelling that is interactive, and therefore doesn't even exist until its audience takes action; but unlike almost every other attempt at interactive storytelling Planetfall and some of its Infocom siblings manage to create feelings other than fright or shock. It evokes an actual emotional response from the player as a result of things the player has chosen to do. And while it may have been a primitive thrust in the right direction, that is exactly what interactive, narrative art needs to do. And has not done.
Imagine that thirty years after the invention of the printing press, nobody had time to write because all they were doing was designing new typefaces. That's exactly where digital entertainment is today.