RESEARCH
BRAIN TREES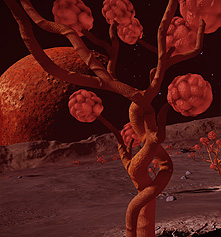 Brain Trees often exhibit a luminescent quality. When in this state, both the nodes and trunks of the trees glow, dimly or brightly, in a phenomenon that so far as we can tell has never been studied.
We've seen glowing Brain Trees in full sunlight; we've seen them glow in the darkness; we've also seen unlit Brain Trees in either condition.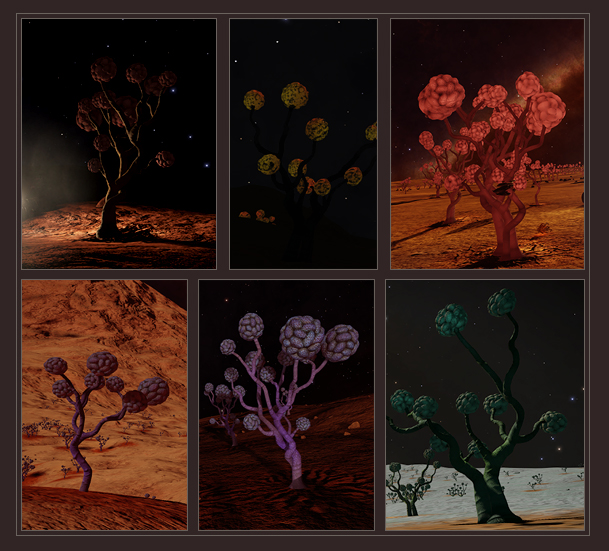 We have also seen curious situations, as shown below, in which both glowing and unlit Brain Trees exist side by side in the same grove.

One possibility is that the trees are charged by sunlight, with the charge slowly dissipating after night falls.
In order to test that idea we captured a time-lapse video of a full day/night cycle, observing whether the luminescence of the Brain Trees changed overnight.
The following video - which is inconclusive - was captured on a planet with a rotational period of about 17 hours.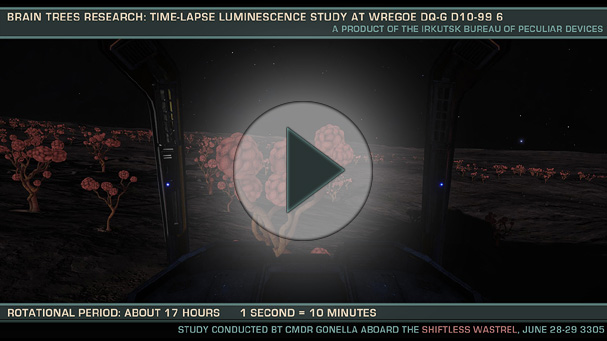 There's no apparent change in the luminescence of this grove. Now, that may not be significant: it could be that it takes a much longer day/night cycle for the trees to charge fully and then discharge. The logistics of a much longer test are a problem, so it may be some time before we conduct the next experiment.
ADDITIONAL DATA GATHERED BY
IBPD FIELD OPERATIONS ASSISTANT