To download any of these images, right-click (Windows) or click-and-hold (Macintosh) on them; then select "Save image as..." and choose a directory on your hard drive where you'd like to save them.

Many of these Celtic panel designs are rectangular, so their background colors don't matter; but those which are irregular in outline do have transparent background colors and should work over most background colors.

CHpanelH.GIF
Size: 4.26K
CHpanelV.GIF
Size: 4.59K
Otknot.GIF
Size: 14K
sqknot.GIF
Size: 1.28K
SMpanel1A.GIF
Size: 1.25K
SMpanel1B.GIF
Size: 1.16K
SMpanel1C.GIF
Size: 1.28K
SMpanel1D.GIF
Size: 1.23K

SMpanel2A.GIF
Size: .6K
SMpanel2B.GIF
Size: .6K
SMpanel2C.GIF
Size: .6K
SMpanel2D.GIF
Size: .6K
SMpanel2E.GIF
Size: .6K
These small rectangular panels work best against a dark background, though in the fifth example I've used an HTML tag to add a border around the image so it'll work better on light colors.
File: Tieknot.GIF
Size: 10K
squareknot1.GIF
Size: 5.27K

(transparent background)
This animated knot ties itself, then unties itself after a pause. It works best against a dark color.
In the example below, the panels repeat. I've used an HTML tag to add a 2-pixel border around them, and placed them inside a colored table.






THIS PAGE SPONSORED BY



These designs are all copyright Bradley W. Schenck, 1997 & 1998, but may be used without fee by individuals for non-commercial web projects. If you're building your own web site, and you don't make money from the site, feel free to use these designs. If you are profiting by building a site for someone else, do not use them. If you are creating your own commercial site, do not use them. If you want to use one of these designs as a tattoo, a stationery design for your personal email, or want to make an object for your own use (not for sale) using one of these designs, go ahead. It is specifically prohibited for anyone other than the artist to include these images in a collection of clip art, whether for profit or not. Got it?


If you use these designs on your web pages, I would be grateful for a credit and, if possible, a link to: http://www.webomator.com/bws.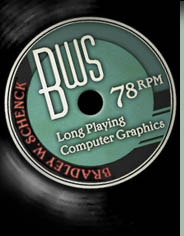 "Trade them for a package of sunshine
and flowers.
If you want the things you love, you must
have showers.
So when you hear it thunder don't run
under a tree,
There'll be Pennies From Heaven for you and me."

"Pennies From Heaven" by John Burke & Arthur Johnston, 1936